Last Updated 09-07-20
All of the knives on this page are in our shop to work with. If they are not in the online shopping database then we simply have not yet had the time to upload the specific products to that category as of yet. Just ask and we will get that category set up within 48 hours.
If you have a knife not in our list then please Contact Us. If it is readily available then we will usually order it in for your build and future ones. If it is a Custom Knife, old, or something generally unavailable, then it will need to be sent in to have a sheath built for it.
Please note that we do not work from measurements or mailed in cut outs, nor will any reputable Maker, Please do not ask.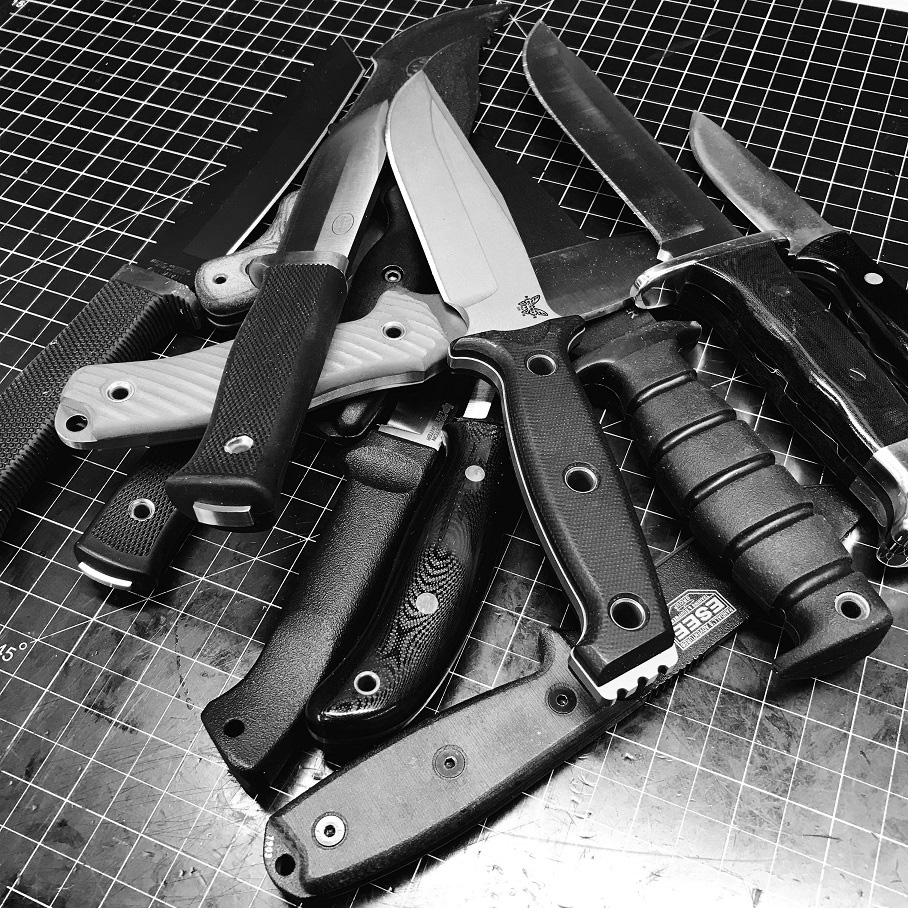 KNIVES
Adventure Sworn
Classic
Explorer
Mountaineer
Woodsman
Bark River
Aurora
Aurora LT
Aurora II
Aurora III
Bravo I
Bravo I LT
Bravo 1.25
Bravo 1.5
Bravo 2
Bravo Crusader
Bravo Squad Leader
Bravo Survivor
Bushcrafter
Bushcrafter II
Cub
Fox River
Gameskeeper
Gunny
Gunny Hunter
Huntsman
Kephart
Mini Aurora
Mini Gunny
Mini Bushcrafter
Mini Kephart
Pukko
Ultralite Bushcrafter
Battle Horse Knives
Bushcrafter
Pathfinder
Pathfinder 2
Scout Platoon
Woodsman Pro
Becker Knife and Tool
BK-2
BK-3
BK-4
BK-5
BK-7
BK-9
BK-10
BK-11
BK-12
BK-13
BK-14
BK-15
BK-16
BK-17
BK-18
BK-20
BK-21
BK-22
BK-24
BK-62
Benchmade
Adamas
Arvensis 119
Bushcrafter 162
Contego 183
Hidden Canyon Hunter
Leuku 202
Nimravus
Pardue Hunter
Protagonist
Pukko 200
Saddle Mountain Hunter
Saddle Mountain Skinner
Steep Country Hunter
Boker
Bushcraft
Bushcraft XL
Rold Scout
Savannah
Vox Rold
Bradford
Guardian 3
Guardian 3.5
Guardian 4
Guardian 4.5
Guardian 5
Guardian 5.5
Guardian 6
Buck
102 Woodsman
103 Skinner
105 Pathfinder
117 Small Brahma
118 Personal
119 Special
119 Brahma
120 General
124 Frontiersman
BuckLite Max
Bucklite Max Small
Compadre
Intrepid
Intrepid XL
Open Season Moose Skinner
Open Season Skinner
Open Season Small Game
Selkirk
Selkirk Small
Sentry
Vanguard
Busse Combat
Team Gemini
Team Gemini Light Brigade
Chris Reeve
Green Beret 5.5
Green Beret 7
Pacific
Cold Steel
Drop Forged Survivalist
Leatherneck
Master Hunter
Outdoorsman
Pendleton
Recon Scout
Recon Tanto
SRK
Trailmaster
Condor
Bushcraft Basic 4
Bushcraft Basic 5
Bushlore 4
Bushlore 5
Crotalus
Final Frontier
Hudson Bay
Kephart
Lifeland Hunter
Mayflower
Moonshiner
Moonstalker
Primitive Camp
Primitive Mountain
Rodan
Sapien
Stratus
Tavien
Terrasaur
Woodlaw
Woods Wise
Dpx Gear
Heat
Heft 4
Hest 6
Hest I/II
Hest 6
Entrek
Badger
Cobra
Companion
Forester
Javalina
Enzo
Badger
Camper
Elver
Necker
Trapper 95
Esee
Ashley Game
Izula
Izula II
Esee-3
Esee-3HM
Esee-4
Esee-4HM
Esee PR4
Esee-5
Esee-6
Esee-6HM
CM6
Laser Strike
Junglas
Junglas II
JG3
RB3
Fallkniven
A1
A1 Pro
A1x
A2
F1
F1 Pro
F1x
H1
NL4
NL5
S1
S1 Pro
S1x
SK1
SK3
SK6
Fiddleback Forge
Bushfinger
Bushcrafter
Camp Knife
Duke
Hiking Buddy
Kephart
Recluse
Gerber
Big Rock Camp
LMF II
Prodigy
Prodigy Tanto
Strongarm
Half Face Blades
Crow Scout
Disaster Breacher
Disaster Jr
Helle
Alden
Arv
Brakar
Dokka
Eggen
Harding
Gaupe
GT
Jegermester
Odel
Sigmund
Sylvsteinen
Temagami
Utvaer
Viking
Wabakimi
Hess
Hunter
Muley
Pioneer
Tiburon
Whitetail
Ka-Bar
Bacon Maker
Big Brother #2211-2217
Cutlass
D2 Extreme #1281-1283
Dog Head Utility
Fighter 1271
Gamestalker
Grass Machete
Jarosz Choppa
Jarosz Turok
Kukri Machete
Large Heavy Bowie
Leather Handled Bowie
Leather Handled Finn
Leather Handled Hunter
Leather Handled Skinner
Marine Hunter
Marine Finn
Mark I 2221-2226
Potbelly
Long Fighters #1211-1225,1245,5011-5025, 9135-9165
Short Fighters #1250-1261,5054,5055
Short Heavy Bowie
Snody Boss
Snody Big Boss
Warthog
Lionsteel
B35
B40
M1
M2
M3
M4
M5
M7
T5
Lon Humphrey
Kephart
Rustic Bravo
LT Wright
Bushcrafter
Bushcrafter HC
Bushbaby
Forest Trail
Gary Wines Bushcrafter
Gen 3
Gen 5
Gen 6
Genesis
GNS
Jessmuk JX2
Jessmuk JX3
Next Gen
Outback
Rogue River
Woodland Trail
Mora
Bushcraft
Classic #1
Classic #2
Classic #3
Clipper
Companion
Craftline
Fireknife
Garberg
Outdoor 2000
Pathfinder
Pro
Robust
Ontario
Afghan
Blackbird SK4
Blackbird SK5
Bushcraft Field
Bushcraft Utility
Bushcraft Woodsman
Falcon
Rat 3
Rat 5
Rat 7
RD4
RD6
RD7
RD9
SP24
Tak I
Pathfinder Knives
Basic Bushcraft
Black Bear
Grizzly
Kephart
Kephart XL
Mountaineer
Mountain Lion
Scorpion
Scorpion XL
Spirit
Wildcat
Rod Garcia
Skookum Bush Tool
Sog
Bowie 2.0
Demo
Fixation Bowie
Force
Seal Pup
Seal Strike
Seal Team
Sog Ops
Super Sog Bowie
Tech Bowie
Trident 2.0
Spartan Blades
Alala
Ares
Damysus
Harsey Difensa
Horkos
Hybris
Machai
Phrike
Ronin Shinto
Spyderco
Bradley Bowie
Bushcraft
Junction
Proficient
Southfork
Sprig
Sustain
Temperance II
Waterway
Steel Will
Adept 1010
Argonaut 800
Argonaut 810
Argonaut 820
Cager 1410
Cager 1420
Chieftain 1610
Chieftain 1620
Darkangel 900
Druid 200
Druid 205
Druid 210
Druid 220
Druid 240
Druid 250
Druid 255
Druid 260
Druid 265
Druid 270
Gekko 1513
Gekko 1533
Sentence 111
Sentence 112
Sentence 121
Sentence 122
Sentence 131
Sentence 132
Tops
Air Wolfe
Al Mar Mini Operator
Alaskan Harpoon
Apache Falcon
Baja 4.5
Black Rhino
Brakimo
Desert Nomad
Dragonfly 4.5
Fieldcraft 3.5
Fieldcraft
Firestrike 4.5
Hazen Legion
Hog 4.5
Longhorn Bowie
Mountain Lion
Operator 7
Prather War Bowie
Silent Hero
Scandi Trekker
Smoke Jumper
Sneaky Pete
Steel Eagle
Tahoma Field
Tex Creek
Tex Creek XL
Tom Brown Tracker #1
Tom Brown Tracker #2
Tom Brown Tracker #3
Tom Brown Tracker #4
Wild Pig Hunter
Victorinox
Outdoor Master Small
Outdoor Master Large
Zero Tolerance
Field Tac 0180
Axes
Cold Steel
Axe Gang
Frontier Hawk
Norse Hawk
Pipe Hawk
Rifleman Hawk
Spike Hawk
Trail Boss
Trail Hawk
CRKT
Woods Chogan
Woods Kangee
Gransfors Bruk
410 Small Hatchet
413 Hand Hatchet
415 Wildlife Hatchet
418 Hunters Axe
420 Small Forest Axe
425 Outdoors Axe
430 Scandinavian Axe
439 Small Splitting Axe
441 Small Splitting Axe
442 Large Splitting Axe
445 Large Splitting Axe
465 Carpenters Axe
473 Small Carving Hatchet
474 Small Carving Axe
475 Swedish Carving Axe
Ray Mears Wilderness Axe
Hults Bruk
Almike Hatchet
Aneby Hatchet
Jonaker Hatchet
Salen Hatchet
Tarnaby Hatchet
Akka Foresters Axe
American Felling Axe
Atran Felling Axe
Kalix Felling Axe
Kisa Felling Axe
Torneo Felling Axe
Bjork Splitting Axe
Gran Splitting Axe
Tibro Carpenter Axe
Husqvarna
13" Wooden Hatchet
19" Wooden Carpenter's Axe
26" Wooden Multi Purpose Axe
Marbles
Belt Axe
Camp Axe
Hunter's Axe
Outdoor Axe
Single Bit Hatchet
Small Axe
Wetterlings
Compact Buddy Hatchet 104
Hudson Bay #180
Hunters Hatchet 115
Les Stroud Bushman Axe
Outdoor Axe 118
Wilderness Hatchet 106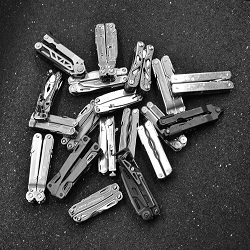 Multi Tools
Gerber
Bullrush
Center Drive
Diesel
Evo
Multiplier 400
Multiplier 600
Multiplier 800
Pro Scout
Strata
Suspension
Leatherman
Blast
Charge
Crunch
Fuse
Mut
OHT
PST II
Rebar
Sidekick
Signal
Super Tool 300
Surge
Wave
Wingman
Sog
Paratool
Power Access
Power Access Deluxe
Power Assist
Power Grab
Power Litre
Power Lock
Power Play